The IPFC Board of Directors is the governing body of The International Perforating Forum Company. IPFC Board of Directors oversees many of IPFC's administrative and operating responsibilities.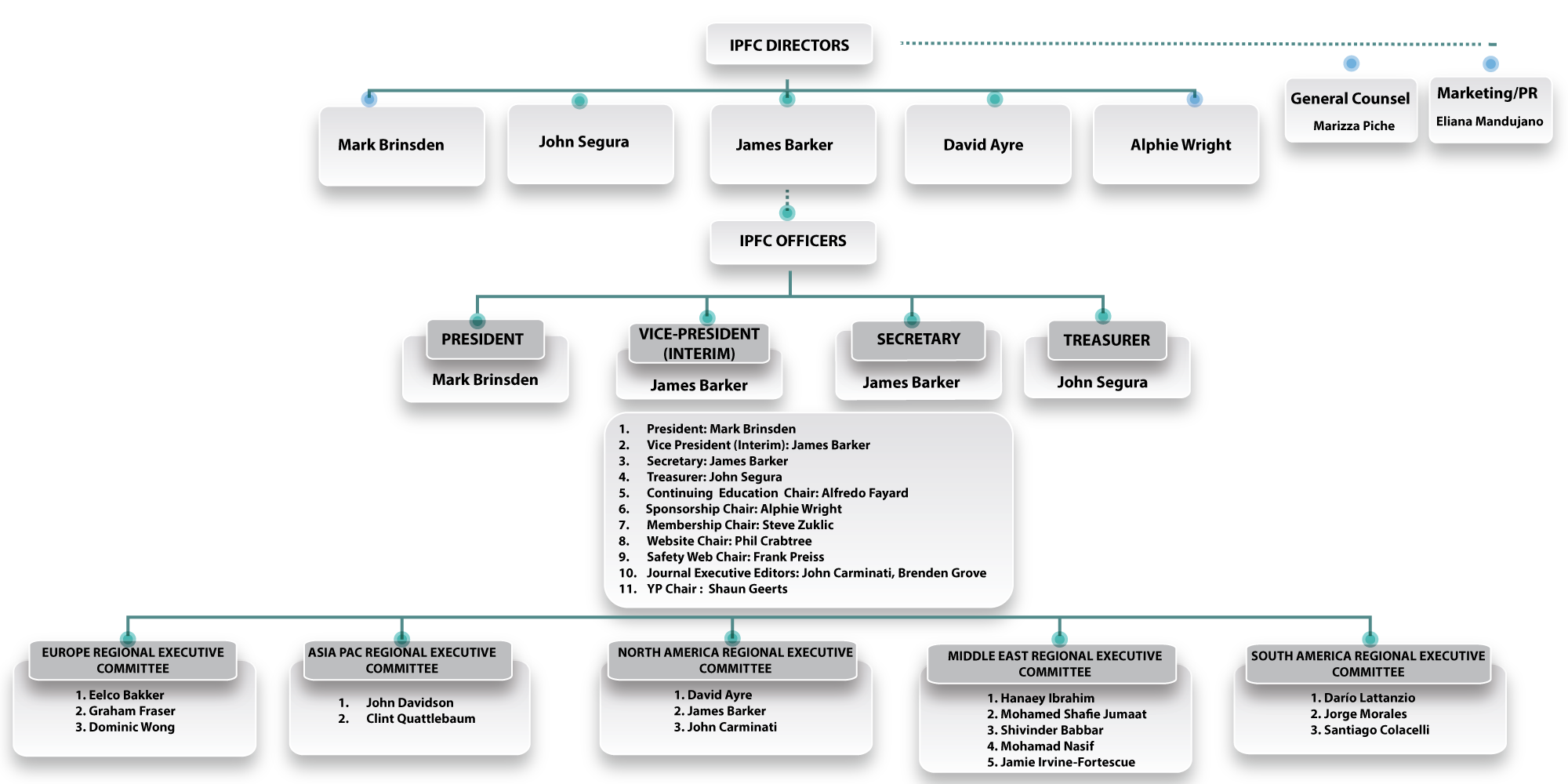 Mark S Brinsden is a Senior Production Technologist, Principal Technical Expert and Team Lead – Perforating for Shell's global business, with a focus on delivering well performance and safety from effective perforating.He runs a functional team of Subject Matter Experts and focal points throughout the Shell Global organization to help deliver results at field level. Mark has a BSc from Edinburgh University and has 35 years of industry experience covering many of the operating areas across the world. He is Chair of API RP 19B perforating committee and President and co-founder of the International Perforating Forum and International Perforating Symposium Series, as well as www.perforators.org an industry group dedicated to the advancement of perforating technology. He is active with the SPE as Chairman of the SPE Energy Information Committee, an SPE Aberdeen Board Member, an SPE Journal Technical Editor and has presented numerous papers at conferences. He travels widely throughout Shell's global assets to provide advanced training in Perforating Optimization and detailed help with delivering optimal inflow performance from the more complex reservoirs. He is also working with several manufacturers and contractors to develop new perforating technologies and is inventor and co-inventor of several gun systems under development.
James Barker is a Halliburton Technology Fellow and the technical chief for Perforating Technology at Halliburton's Jet Research Center division at Alvarado, Texas. His work is focused on the development and testing of perforating systems, especially in the areas of specialty explosives and thermal decomposition kinetics. His further work at Jet Research Center encompasses explosive safety, process safety management, and regulatory compliance. James has over 36 years of industry experience and has held various engineering and engineering management positions during his career. In addition to perforating systems, his broader technical background includes the development of downhole completion equipment and cased-hole wireline tools. James holds a BS degree in Nuclear Engineering and an MS degree in Mechanical Engineering from Texas A&M University. He has received over 30 patents related to explosive devices and downhole oil tools, has published and presented papers, and serves in leadership roles in several technical organizations within the explosives and oil & gas communities including Board of Governors and Steering Committee for the Institute of Makers of Explosives; Director and Secretary for the International Perforating Forum Company; co-chairman for the 2016 International Perforating Symposium; and co-chairman overseeing the revision of the API RP67 document, Recommended Practice for Oilfield Explosives Safety.
John "JW" Segura is a nearly 40 year veteran of the Wireline industry and currently the Senior Product Manager – Perforating, for Baker Hughes. He is a published author and presenter for the International Association of Drilling Contractors (IADC), the American Society of Mechanical Engineers (ASME), and the Artificial Lift R&D Council (ALRDC). JW has published work in SPE One Petro and several periodicals including SPE Drilling & Completion. JW serves within several industry technical organizations, including: Steering Committee overseeing the revision of the API RP67 document, Recommended Practice for Oilfield Explosives Safety, and the API RP19B document, Perforator Witnessing Program, and a Director / Treasurer of the International Perforating Forum Company. JW remains an active participant in the operations arena and is a perforating and pipe recovery product patent holder.
Alphie Wright has been in the oil industry for over 30 years with experience in domestic and international roles involving engineering, sales and operations.
Accomplished in house corporate counsel with over 18 years of broad based experience as In house Counsel and Human Resources Director. Significant experience in maritime, upstream, including oilfield services engineering and exploration and production companies. Most recently Marizza works as General Counsel with Allrig, Inc., a multinational oil and gas service company headquartered in Houston, Texas, having offices in the Netherlands, UAE, Singapore and USA.
Eliana has joined the International Perforating Forum in 2014, being involved in the IPS Galveston event planning. She worked for GEODynamics as Executive Administrator and later on, International Sales representative, currently serving as Independent Consultant for IPFC. She has been working with the IPFC President and Directors on developing the International Perforating Forum, both in the incorporation process and in PR and Marketing. Eliana has extensive international experience having lived, studied and worked in Romania, France, Qatar, and now the US. She has earned two Masters' degrees in European Projects Management and International Business Administration and she is fluent in 4 languages (English, Spanish, French, and Romanian).