DEDICATED TO THE ADVANCEMENT OF WELL PERFORATING TECHNOLOGY
About IPF
The International Perforating Forum (IPF) was created in 2008, as an independent forum for the advancement of the well perforating technology. The first International Perforating Symposium (IPS) was organized in Houston in 2008, and it successfully lead to the next International Perforating Symposiums held biannually in different international locations, such as: Kuala Lumpur, Abu Dhabi, Amsterdam, Bogota and Muscat, organized by IPF Executive and Regional Committees. In 2015, the IPF became a nonprofit organization incorporated in Houston, Texas, under the name of "International Perforating Forum Company" (IPFC).
PERFORATING SAFETY
Safety is at the core of IPF's mission. One of our main goals is to promote new technologies that will offer opportunities for improved safety and increased operational efficiency. This is applicable to explosives used in oil and gas producing operations, and more specifically to the use of explosives inside a wellbore. The IPF Safety Chair's goal is to collect and review incidents and near miss reports related to explosives and associated surface equipment used in oil and gas producing operations electric and electronic detonators, percussion initiators, igniters, delay devices, ballistic transfers, addressable (digital) firing systems and surface equipment associated with the perforating systems. The purpose is to prevent inadvertent and unintentional detonation of explosives, help minimize risks and reduce explosive accidents to zero.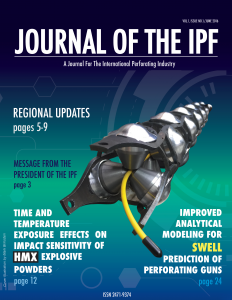 Journal of the IPF, Volume 2, Call for Articles now OPEN!
Dear Perforating Professionals,
We are pleased to announce the launching of a new campaign for JIPF technical papers submission, in consideration to be published in the second issue of JIPF in Q2, this year. We thank everyone who contributed to the successful inaugural issue of the Journal, from authors to editors, for putting a great amount of work into the review process to make sure the Journal contains high quality, detailed technical papers relevant to the Perforating Industry. For more details and guidelines, please visit our JIPF page. Should you have any questions, don't hesitate to contact us directly at journal@perforators.org.
Thank you in advance, and we look forward to reviewing your submissions!
Best Regards,
John Carminati and Brenden Grove
JIPF Executive Editors