DEDICATED TO THE ADVANCEMENT OF WELL PERFORATING TECHNOLOGY
About IPF
The International Perforating Forum (IPF) was created in 2008, as an independent forum for the advancement of the well perforating technology. The first International Perforating Symposium (IPS) was organized in Houston in 2008, and it successfully lead to the next International Perforating Symposiums held biannually in different international locations, such as: Kuala Lumpur, Abu Dhabi, Amsterdam, Bogota and Muscat, organized by IPF Executive and Regional Committees. In 2015, the IPF became a nonprofit organization incorporated in Houston, Texas, under the name of "International Perforating Forum Company" (IPFC).
PERFORATING SAFETY
Safety is at the core of IPF's mission. One of our main goals is to promote new technologies that will offer opportunities for improved safety and increased operational efficiency. This is applicable to explosives used in oil and gas producing operations, and more specifically to the use of explosives inside a wellbore. The IPF Safety Chair's goal is to collect and review incidents and near miss reports related to explosives and associated surface equipment used in oil and gas producing operations electric and electronic detonators, percussion initiators, igniters, delay devices, ballistic transfers, addressable (digital) firing systems and surface equipment associated with the perforating systems. The purpose is to prevent inadvertent and unintentional detonation of explosives, help minimize risks and reduce explosive accidents to zero.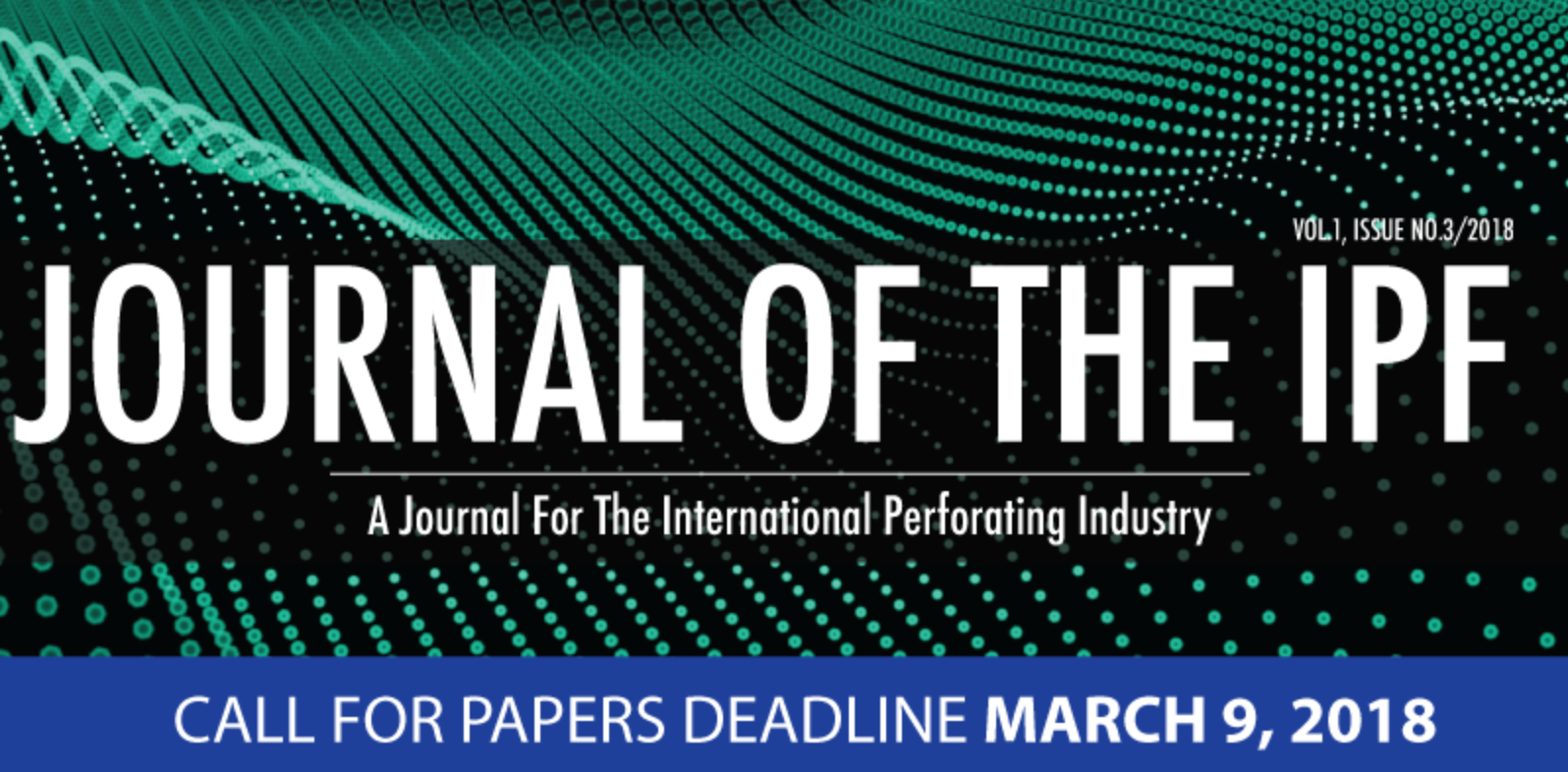 JIPF Call for Articles Deadline: March 9th, 2018
Dear Perforating Colleagues,
You are invited to submit your technical article for publication consideration in the Journal of the IPF. Publication of the next issue is planned for June 2018. The JIPF is now at its third edition and we have noticed an increased interest and value to the perforating community. Submitted articles will undergo a rigorous peer review process to ensure a high standard technical Journal, the goal being to publish high quality, detailed, technical papers relevant to the science of Oil and Gas Industry perforating. The Journal consists of three sections: Regional Updates, News and Articles. The Regional Updates section is where you can find the latest information on IPS events, in particular recent and upcoming symposia. The News section highlights general items of interest to the perforation community at large. The Articles section contains peer-reviewed technical papers on a wide range of topics. The Journal has an excellent technical editor staff which has ensured the highest technical standards were met for the publication of this second issue. You are therefore invited to submit your technical articles here, for publication consideration, now through March 9th, 2018.
We hope you will find the Journal of value. If you wish to contribute to any section of the future Journal issues, please visit our article submission webpage
here
. We value your feedback on the Journal content, please send any comments to
journal@perforators.org
. It is our goal to provide you with the most interesting topics related to the perforating industry, therefore, we cordially invite you to take a moment to browse through the pages of the
JIPF in 3D format
or download it directly as a
pdf file
.
Sincerely,
On Behalf of the JIPF Editors

John Carminati, JIPF Executive Editor
Brenden Grove, JIPF Executive Editor
We'd like to take a moment and give credit to those whose articles have been selected and published in the first and second issue:
Time and Temperature Exposure Effects on Impact Sensitivity of HMX Explosive Powders
– Shaun Geerts, IPF, Owen Oil Tools
(Vol 1, Issue 1)
Improved Analytical Modeling for Swell Prediction of Perforating Guns
– Michael H. Du, Schlumberger, C. (Oliver) Han, IPF member, Schlumberger/Independent
(Vol 1, Issue 1)
Multi-Scale Modeling for Damage Characterization and Productivity Prediction Around A Perforation Tunnel
– Authors: Rajani P. Satti, Baker Hughes, IPF Member; Derek S. Bale, Baker Hughes, IPF Member; Stephen N. Zuklic, Baker Hughes, IPF Member; Nils Koliha, Exa Corporation; Ryan Jew, Exa Corporation; Bernd Crouse, Exa Corporation; David Freed, Exa Corporation
(Vol 1, Issue 2)
Advances in Computational Modeling for Underbalanced Perforating: From Lab to Field
– Authors: Derek S. Bale, Baker Hughes, IPF Member; Rajani P. Satti, Baker Hughes, IPF Member
(Vol 1, Issue 2)